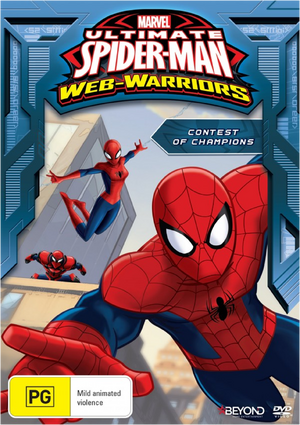 Ultimate Spider-Man: Web-Warriors: Contest of Champions is the fourth DVD volume of the third season of Ultimate Spider-Man.
Description
The hottest new boys series from Marvel! Spider-Man, The Avengers, and The Agents of S.M.A.S.H are pawns in a game between the Grandmaster and the Collector in which they must battle all of their greatest foes for the fate of the planet. Its utter chaos as the likes of Spider-Man, Agent Venom, Captain America and She-Hulk do battle with the most fearsome villains in the Marvel Universe, will the Web-Warriors prevail, or will the Grandmaster claim the Earth, once again humiliating his brother the Collector?
Episodes
Ad blocker interference detected!
Wikia is a free-to-use site that makes money from advertising. We have a modified experience for viewers using ad blockers

Wikia is not accessible if you've made further modifications. Remove the custom ad blocker rule(s) and the page will load as expected.