Ultimate Spider-Man: Ultimate-Tech is the fourth DVD volume of the series.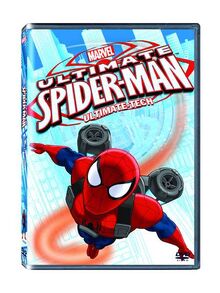 Description
Peter Parker must face New York City's toughest super villains as the masked Super Hero, Spider-Man, while getting his homework in on time as a student at Midtown High. Follow the adventures of everyone's favorite web-slinger as he teams up with Wolverine to battle the likes of Mesmero and Sabertooth and witness the creation of the sinister Green Goblin in this funny, fast-paced and ferocious series!
Rev up the thrills with Ultimate Spider-Man: Ultimate-Tech as Spidey rocks his foes with the most awesome technology in the Marvel universe! Experience all the excitement of seven action-packed animated adventures, in one spectacular collection.
Episodes
Ad blocker interference detected!
Wikia is a free-to-use site that makes money from advertising. We have a modified experience for viewers using ad blockers

Wikia is not accessible if you've made further modifications. Remove the custom ad blocker rule(s) and the page will load as expected.