Ultimate Spider-Man: Avenging Spider-Man is the third DVD volume of the series.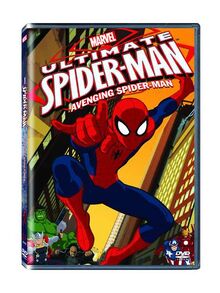 Description
When the world's most dangerous super villains attack New York City, a young Peter Parker finds himself juggling two lives: one as an ordinary high-school student and one as the Hero of New York City! Jump into the web-slinger's amazing world as he teams up with members of Marvel's mighty Avengers in Ultimate Spider-Man: Avenging Spider-Man.
Get ready for non-stop mayhem as the Hulk smashes his way into Spider-Man's life, sick with an alien infection. Prepare fro revenge by the evil villain Loki as he turns the web-head into a pig-AKA Spider-Ham! Seven action-packed episodes of this spectacular animated adventure series are stuffed in this on incredible collection!
Episodes
Ad blocker interference detected!
Wikia is a free-to-use site that makes money from advertising. We have a modified experience for viewers using ad blockers

Wikia is not accessible if you've made further modifications. Remove the custom ad blocker rule(s) and the page will load as expected.