The Spider-Verse: Part 2 is the tenth episode of the third season of Ultimate Spider-Man.
Synopsis
The Green Goblin opens portals to alternate worlds so Spider-Man teams up with alternate versions of himself to stop him.
Plot
Characters
Main Characters
Supporting Characters
Villains
Other Characters
Cast
Trivia
This episode will air in the UK on 6th September 2014 with the others airing every Saturday. It along with the 3 other "Spider-Verse" episodes aired in India on 31st August.
Marvel references
Goofs
Quotes
Spider-Man Noir: (Screams) (Groans)
---
Spider-Man: Speaking of costumes. You ever see anyone around here wearing one like mine?
---
Spider-Man: (Yelps) Hey, Jackpot! There's my guy down there! Hold on! I want to talk to you, Mr. Spider-- Scarecrow? (Sighs)
---
Iron Mouse: Hey!
Goblin: One side, Vermin!
Iron Mouse: Spider-Ham!
Spider-Man: Iron Mouse?
Iron Mouse: That's the green monster who was asking about you in town. You need a hand?
---
Iron Mouse: Does this means you're ready to rejoin the Avengers?
Videos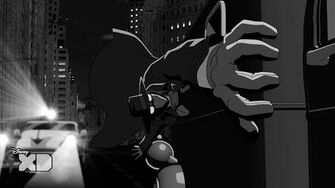 Ad blocker interference detected!
Wikia is a free-to-use site that makes money from advertising. We have a modified experience for viewers using ad blockers

Wikia is not accessible if you've made further modifications. Remove the custom ad blocker rule(s) and the page will load as expected.