"
Spider-Man: You talking to the moon again?
Moon Knight: Of course, isn't that who you are talking to?
Spider-Man: No? No one talks to the moon. The moon doesn't talk.
Moon Knight: Then if you are not talking to the Moon, who are you talking to?
Spider-Man: Uhh... no one?
Moon Knight: Weirdo.
"
The Moon Knight Before Christmas is the twenty fourth episode of the fourth season of Ultimate Spider-Man.
Synopsis
On Christmas Eve while house-sitting, Spidey must team up with the half-crazed Moon Knight to defend the house against the new Mysterio.
Plot
Characters
Main Characters
Supporting Characters
Villians
Other Characters
Cast
Trivia
This episode marks the first animated appearance of Moon Knight, and a female Mysterio.
This episode also marks the fifth animated appearance of Mysterio.
Videos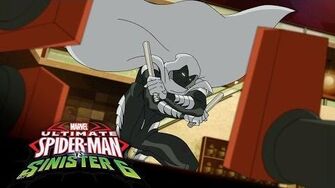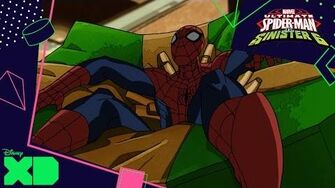 Ad blocker interference detected!
Wikia is a free-to-use site that makes money from advertising. We have a modified experience for viewers using ad blockers

Wikia is not accessible if you've made further modifications. Remove the custom ad blocker rule(s) and the page will load as expected.