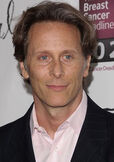 Steven Robert Weber (born March 4, 1961) is an American actor. He is well known for his role as Brian Hackett on the sitcom Wings and of his voice roles (including Charlie Barkin in All Dogs Go To Heaven: The Series and An All Dogs Christmas Carol). Weber provides the voices of Norman Osborn, Trapster and Green Goblin on Ultimate Spider-Man.
Roles
Main Roles
Minor Roles
Videos
External links
Ad blocker interference detected!
Wikia is a free-to-use site that makes money from advertising. We have a modified experience for viewers using ad blockers

Wikia is not accessible if you've made further modifications. Remove the custom ad blocker rule(s) and the page will load as expected.