"
You said it yourself. In every other realm, Peter Parker's a good guy. With someone as evil as you, you poisoned yourself by taking our life forces
"
 
Return to the Spider-Verse: Part 4 is the nineteenth episode of the fourth season of Ultimate Spider-Man.
Synopsis
Spider-Man returns to Miles Morales' universe after collecting all the shards of the Siege Perilous and finally confronts Wolf Spider.
Plot
Characters
Main Characters
Supporting Characters
Villains
Other Characters
Cast
Trivia
Errors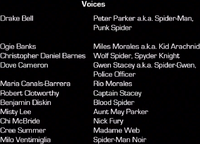 Gallery
Videos
Ad blocker interference detected!
Wikia is a free-to-use site that makes money from advertising. We have a modified experience for viewers using ad blockers

Wikia is not accessible if you've made further modifications. Remove the custom ad blocker rule(s) and the page will load as expected.