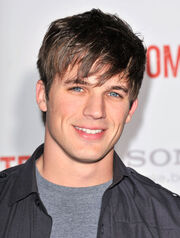 Matthew Mackendree "Matt" Lanter (born April 1, 1983) is an American actor, former reality TV personality and model that has had roles in Commander in Chief, 90210, Disaster Movie, Sorority Row, Vampires Suck and is perhaps best known for voicing Anakin Skywalker in Star Wars: The Clone Wars. Lanter does the voices of Harry Osborn, Flash Thompson and Venom on Ultimate Spider-Man.
Roles
Main Roles
Minor Roles
External links
Ad blocker interference detected!
Wikia is a free-to-use site that makes money from advertising. We have a modified experience for viewers using ad blockers

Wikia is not accessible if you've made further modifications. Remove the custom ad blocker rule(s) and the page will load as expected.