Lizards is the fifth episode of the fourth season of Ultimate Spider-Man.
Synopsis
Vulture's revelation that Doc Ock has a spy inside S.H.I.E.L.D. Academy leads the Web-Warriors on a hunt to find the mole.
Plot
Characters
Main Characters
Supporting Characters
Villains
Other Characters
Cast
Trivia
The episode's plot takes inspiration from the Spider-Man comic storyline Shed and the plot of the The Amazing Spider-Man live-action film, where the Lizard transforms other individuals, including superheroes, into lizard-monsters like himself in order to create an army.
Videos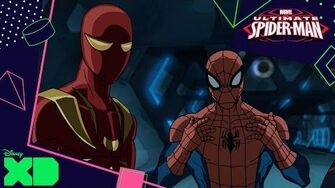 Ad blocker interference detected!
Wikia is a free-to-use site that makes money from advertising. We have a modified experience for viewers using ad blockers

Wikia is not accessible if you've made further modifications. Remove the custom ad blocker rule(s) and the page will load as expected.