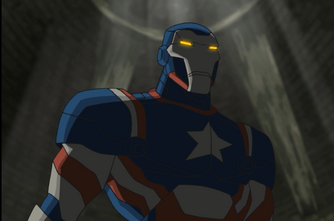 The Iron Patriot Armor is an armor created and used by Norman Osborn in his quest to redeem himself.
Specs
Repulsor Blasts
Missile Launchers
High-Powered Pulse Bolts
Mach 2 Repulsor Boot Jets
Superhuman Strength
Superhuman Durability
Scanner Systems
Communication's Links
Flight via Jet Systems
Appearance
The Iron Patriot Armor is an amalgam of Iron Man's armor and Captain America's colors. However, Norman's armor uses different weapons and has a palladium power core.
History
After creating a suit similar to Tony Stark's armor with Steve Rogers's colors, Osborn used the armor to perform heroic deeds by taking out the Frightful Four, the Spider-Soldiers, and the armored Sinister Six.
The suit was destroyed when Osborn reverted back to Green Goblin thanks to Doctor Octopus.
It was later rebuilt in season 4 when Norman uses it to fight Vulture and Doc Ock.
Trivia 
The Iron Patriot Armor's colors resemble the Iron Man 3 version.
The Iron Patriot appears in Avengers Assemble as one of the remote controlled Iron Legion armors.

It can be assumed that Stark salvaged what was left of the armor, rebuilt it and kept it for himself.

In the comics, Norman Osborn was the Iron Patriot when he formed the Dark Avengers.
Norman keeps a bunch of armors in his safe room which lead to the creation of Patrioteer.
Ad blocker interference detected!
Wikia is a free-to-use site that makes money from advertising. We have a modified experience for viewers using ad blockers

Wikia is not accessible if you've made further modifications. Remove the custom ad blocker rule(s) and the page will load as expected.