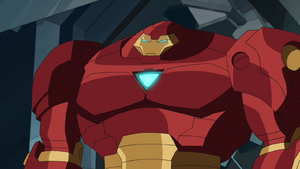 The
Iron Man Mark 14 Armor
codenamed the
Hulkbuster Armor
is a large
Iron Man
armor ,created by Tony Stark. It was designed to fight the
Hulk
(in case if he's on a rampage or he's out of control) and other opponents. It was taken over by an
Octobot
and sent against Stark, but it was destroyed.
It was later rebuilt.
Capabilities
Flight
Superstrength
Repulsors
Sonic Repulsor Rays
Uni-Beam
Mach 2 Rocket Boot Jets
HUD
Repuslor Shielding
Bulletproof
Comm Systems
Magnetic Suspension
External links
Ad blocker interference detected!
Wikia is a free-to-use site that makes money from advertising. We have a modified experience for viewers using ad blockers

Wikia is not accessible if you've made further modifications. Remove the custom ad blocker rule(s) and the page will load as expected.