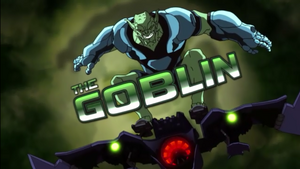 The Goblin Glider is a high-tech glider designed by Dr. Curt Connors for S.H.I.E.L.D.. It was stolen by The Goblin.
Description
The Goblin Glider is capable of great maneuverability and speeds of up to 90 miles per hour. It was capable of supporting about 400 lbs including Norman's weight (and far more for very brief periods of time). Top speed and a full normal load would exhaust the fuel supply in about one hour. The main microprocessor assisted manual controls were behind the head of the glider. The goblin glider was steered primarily, however, by the weight and attitude of its rider. The Green Goblin's boots locked into the stirrups of the glider electromagnetically.
Users
History
To be added
Capabilities
To be added
Ad blocker interference detected!
Wikia is a free-to-use site that makes money from advertising. We have a modified experience for viewers using ad blockers

Wikia is not accessible if you've made further modifications. Remove the custom ad blocker rule(s) and the page will load as expected.