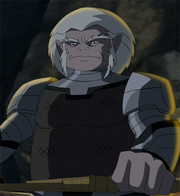 Dwarves are small  and stouted people that resides in one of the Nine Realms, Nidavellir. The ruler of the Dwarves is the king, Eitri.
Anatomy
Dwarves have bipedal human-like appearances. However they are shorter than the average human and they have a rounder body.[1]
History
The king of Nidavellir, Eitri created the hammer of Thor, Mjolnir. After Loki tried to surp the throne of Odin, Eitri gave Thor's new allies Spider-Man and his team new magical weapons to take on Loki.[1]
Known Dwarf
References
Ad blocker interference detected!
Wikia is a free-to-use site that makes money from advertising. We have a modified experience for viewers using ad blockers

Wikia is not accessible if you've made further modifications. Remove the custom ad blocker rule(s) and the page will load as expected.