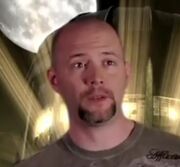 Christopher Daniel Barnes (born November 7, 1972), also known professionally as C.D. Barnes and C.B. Barnes, is an American actor. He is best known for his voice role as the title superhero of the 1990s Fox animated television series Spider-Man, as well as his on-screen portrayal of Greg Brady in the films The Brady Bunch Movie and A Very Brady Sequel. He was also once the national teenage spokesperson for Greenpeace.
He is the voice actor of Electro, Spyder-Knight and Wolf Spider.
Spider-Man
Vocally, Barnes is best known for his lead role in the 1994-1998 Spider-Man cartoon series, which remains to be the longest-running TV show based on the superhero. He later provided the voice of Spider-Man Noir in the 2010 video game Spider-Man: Shattered Dimensions, Spider-Man 2099 in the 2011 video game Spider-Man: Edge of Time, and Electro/ Spyder-Knight/ Wolf Spider in the 2012 cartoon series Ultimate Spider-Man.
Ad blocker interference detected!
Wikia is a free-to-use site that makes money from advertising. We have a modified experience for viewers using ad blockers

Wikia is not accessible if you've made further modifications. Remove the custom ad blocker rule(s) and the page will load as expected.