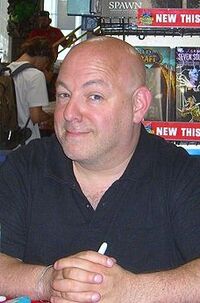 Brian Michael Bendis (born August 18, 1967) is an American comic book writer and former artist. He has won critical acclaim (including five Eisner Awards) for his self-published, Image Comics and Marvel Comics work, and is one of the most successful writers working in mainstream comics, with his books selling consistently highly for over a decade.
He is hired to work as the writer of the animated Ultimate Spider-Man series.
Episodes written by Brian Michael Bendis
External links
Brian Michael Bendis at Wikipedia, the free encyclopedia.
Ad blocker interference detected!
Wikia is a free-to-use site that makes money from advertising. We have a modified experience for viewers using ad blockers

Wikia is not accessible if you've made further modifications. Remove the custom ad blocker rule(s) and the page will load as expected.